All about Me Me Me.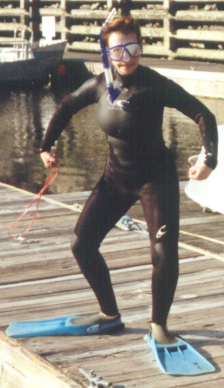 When not in my kitchen or someone else's kitchen, obsessively making soap I am a Kundalini Tantra teacher and spiritual guide. I was born a Shaman, with many spiritual and psychic gifts that have been refined and empowered by decades on the spiritual path. I also got a whack of ADD in the mix, which is fairly invisible because I have had plenty of time to arrange my life to make the most of my talents and reduce the need for stuff I'm just no damn good at. The daydreaming all my elementary school teachers complained about has grown into a power of visualization that has been known to produce genuine miracles, as Goddess Wills.
It also tends to make me a little obsessive sometimes.
Attention Deficit Disorder is not well named. What it is, is that I cannot focus enough to do things that bore me, but if I get interested in something I can focus on it for 30 hours straight, or for weeks and months at a time, rarely coming up for air.
My careers tend to follow similar patterns. I seldom held the same job for more than two years, although careers tend to be good for about 5-7 years before I am too restless and get interested in doing something else.
In between, I have had a lot of part time or short term jobs, including being a mermaid, doing singing telegrams, running off to join the circus, leading a comedy improv troupe, and I even sold 100 sets of Encyclopaedia Britannica, back in the late 80s.
It is an aspect of ADD types to have a great big brain, loads of creative energy and too many talents, but to be unable to choose just one and stick with it long enough to be really successful at it. My current hobbies include carpentry, gardening, designing and sewing my own clothes, home decorating, painting murals, sculpting in cement, glass, wood and stone, upholstery and furniture refinishing, writing and web design.
At present I have about 25,000 pages on the web, spread over 9 domains... about 24,000 of those are archives of an email list I have run since 1996, a support group for Kundalini awakened people. My fella got me into sailing, and boating in general but I already enjoyed fishing, cycling, swimming, yoga, and dancing naked on Wreck Beach.